Restoring the 'Royal Diner' - rebuilding an American experience
In the wake of the latest layoffs and company closings in the machine tool industry in Springfield, Laurentiu Traineanu and Matthew Alldredge joined forces once again in this latest, exciting and new venture. The old saying "when a door closes, a window will always open" is more true now than ever.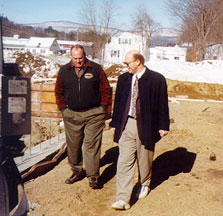 Traineanu and Alldredge have been developing and growing businesses together for well over a decade. Both men are very civic minded and have been investing a lot of resources, energy and finances in Springfield's future. They both are firm believers in this town and are determined to do more than their fair share to revitalize this huge dormant oyster - Springfield, Vermont. A third partner in this venture is Roger Cawvey, currently VP of PVCC.
In the winter of 2002, in a town that has faced recent layoffs, three businessmen Matthew Alldredge, Laurentiu Traineanu and Roger Cawvey believe in Springfield, Vermont and the possibilities it holds. The three business associates, Matthew, Laurentiu and Roger have formed a new company, The Springfield Diner Corporation, and purchased the Royal Diner of Kingston, NY.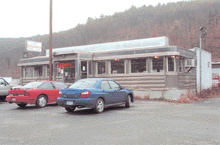 The purchase of this Vintage Diner was made from the American Diner Museum, a nonprofit group dedicated to the preservation and restoration of historic diner cars. The Diner operated continuously until DEC 1, 2001 in Ulster County.
Once a fixture of Main Streets all over America, the new Diner is one of a kind and one of the last existing diners built by the Mahoney Diner Company in 1955.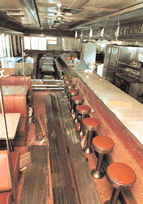 The Royal Diner has served in Kingston NY (it's previous home until December 2001, when it closed its doors), it's fair share of celebrities: like musician John Sebastian, actor Tom Selleck and movie star Kirk Douglas who sat in the same booth and ordered the same Western omelet every morning while working on his autobiography.
For 47 years the former Royal Diner has been filled with the smell of hash browns cooked with a little onion and bacon fat filled the air in the former Royal Diner in Kingston NY, where it served on weekly basis 60 dozen eggs and 60 lb. of bacon.
Containing its original booths, tables, stools, back bar and counter, the diner measures 16'8" x 48' and seats approximately 60 customers.
A preservationist group from the American Diner prepared the 17 by 48 foot, former Royal Diner for its 175-mile interstate journey of last week.